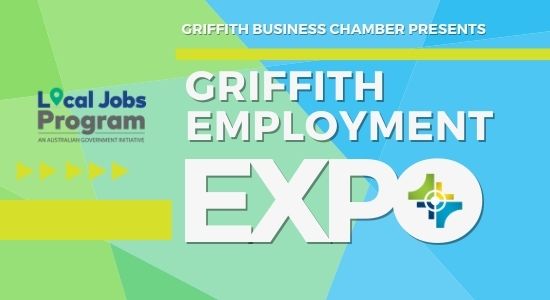 Please complete and email to info@griffithbusinesschamber.com.au no later than 15th July 2022.
GRIFFITH EMPLOYMENT EXPO
Griffith Business Chamber will be hosting an Employment Expo on Friday 29th July 10am – 7pm at The Griffith Exies Club.
An event developed in reaction to the Workforce Crisis. We have partnered with the Local Jobs Program who will provide support to the Chamber in connecting employers with those seeking work in the community.
The Local Jobs Program will host a number of workshops across the day showcasing and creating awareness of particular industries and helping job seekers learn about pathways to employment and how to promote themselves to potential employers.  Opportunities to book a free one-on-one session with an experienced consultant to have your resume reviewed or have some interview practice will also be available on the day.
The purpose of our Expo is to promote and encourage career opportunities available within your industry, promote any job vacancies you have available at the time & highlight gaps in industries.
Our aim is to showcase as many businesses as possible under one roof and promote industries that are finding it difficult to recruit.
We are currently seeking expressions of interest from the following industries: Building and Construction, Electrical & Plumbing, Accountants, Retail, Hospitality, Automotive, Health & Beauty, Legal, Computers/I.T, Real Estate, Wineries, Printing & Design, Education, Manufacturing, Employment providers.
Members and Non members are welcome, please forward to any business that you will feel will benefit from this event.
If you're interested in being an exhibitor of the Expo, please complete the application form and send to  info@griffithbusinesschamber.com.au
Cost per exhibitor for approx 3mx3m : $150 non members | $200 Non Members
We'll be heavily promoting this event to students & general public with this general message – "Whether they are in their final year of study, looking for a new job or deciding on a career change….The Griffith Employment Expo can provide valuable information, build networks & connect them with potential employers from a variety of industries."