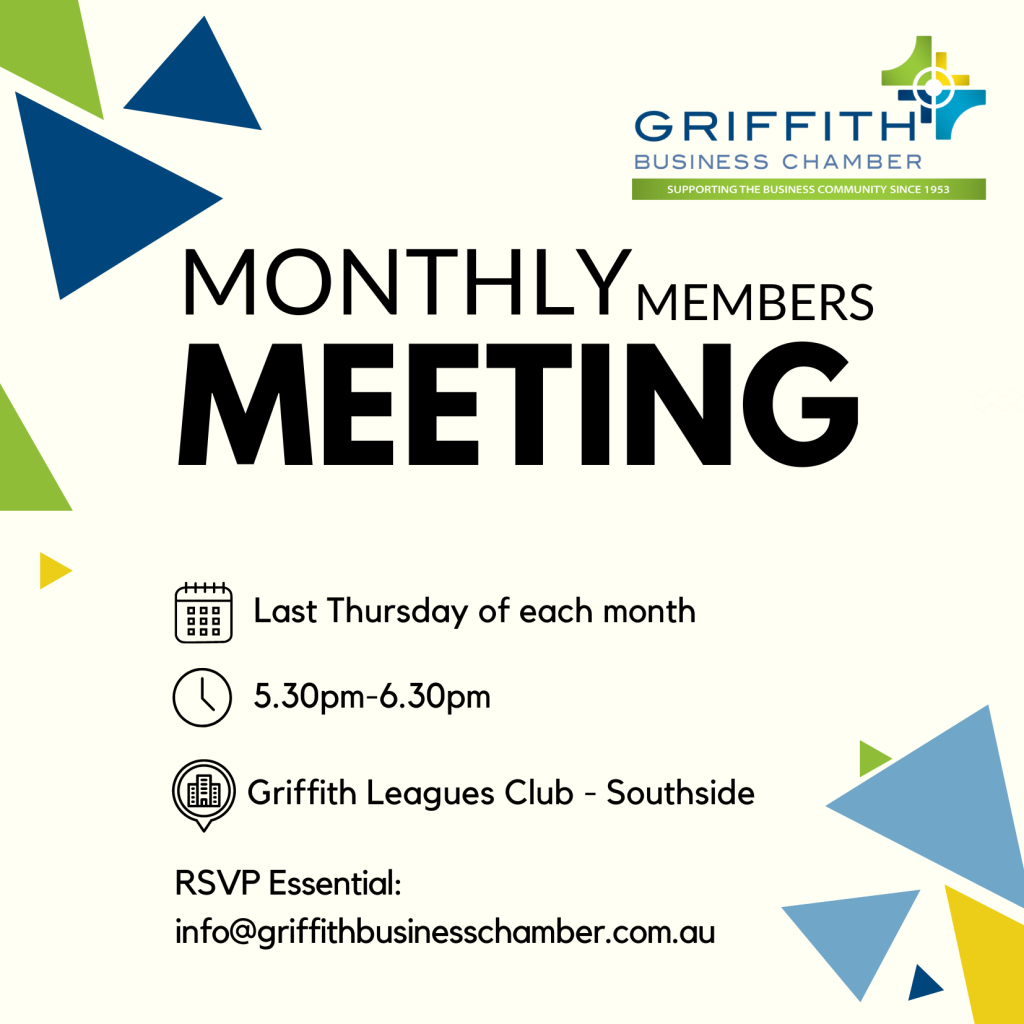 MONTHLY MEETINGS
Members of Griffith Business Chamber are invited to attend our Regular Monthly Meetings. Held on the last Thursday of each month generally at Griffith Leagues Club - Southside at 5.30pm. However, please note venue may change on occasion so RSVP is essential.
Attending the meetings will provide opportunities for members to engage with the Chamber. You'll also hear first-hand information about what's coming up, what we're working on behind the scenes and be able to contribute to projects etc.
NOVEMBER MEETING
AGM, details below
DECEMBER MEETING
More details below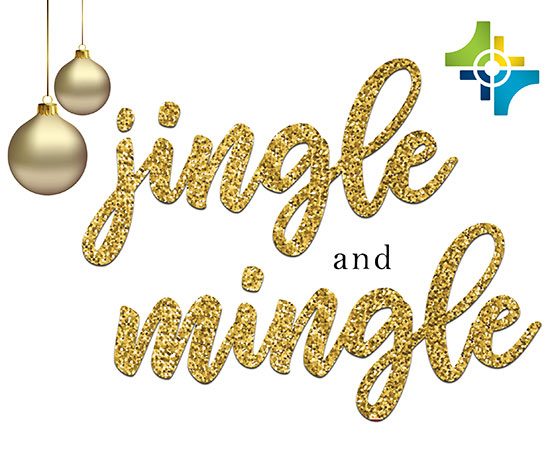 CHAMBER CHRISTMAS PARTY
MEMBERS! You're invited to attend the Chamber's Annual JINGLE & MINGLE Christmas Party!

When: Thursday 7th December 2023
Time: 5.45pm
Where: The Coro Club, Harward Road Griffith
Cost: FREE for Members. Food & Beverages included
Secure your FREE ticket HERE by 5th December

Our Christmas event is for members looking to;
-create new business contacts
-find out more about Chamber
-promote their business
-build relationships in the local business community
.....and simply just to network and have a great time!

Our Chamber Executive are also keen to meet members and receive feedback.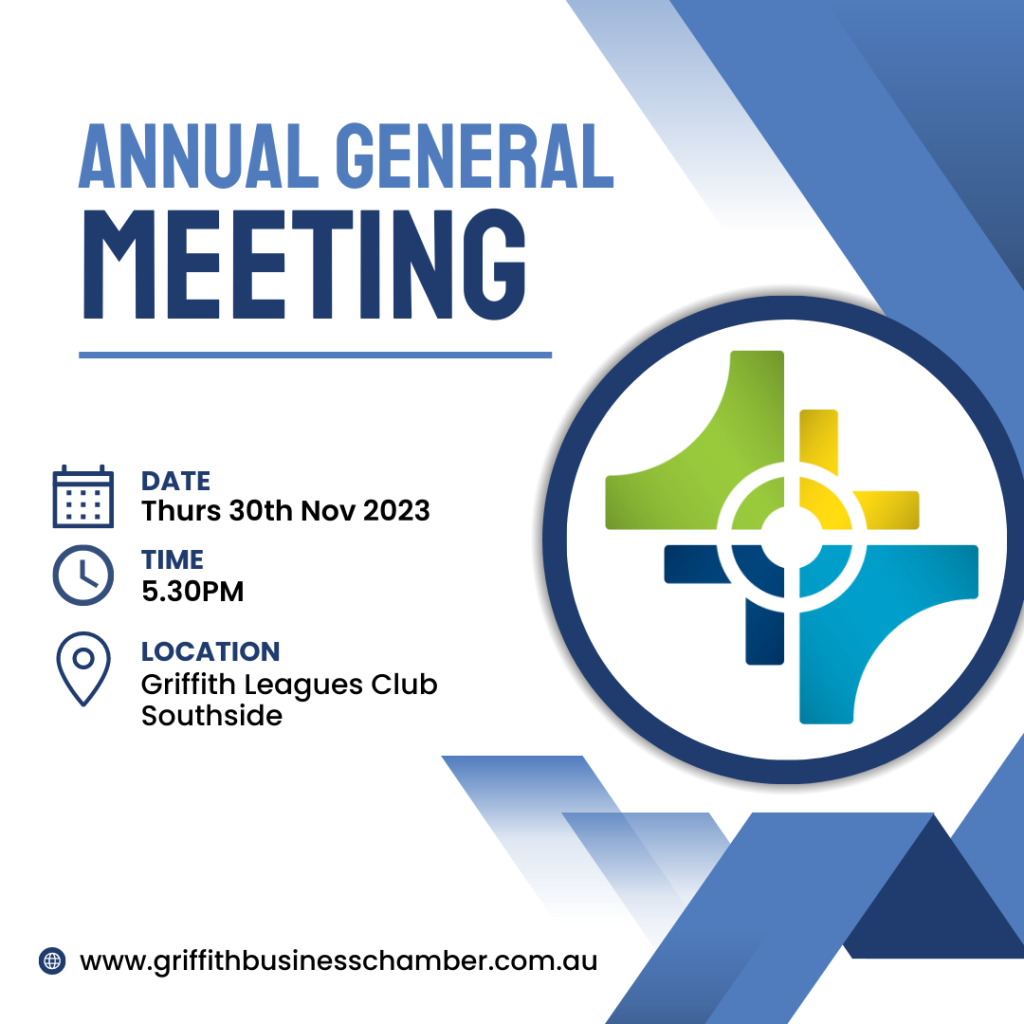 AGM
Notice is hereby given of The 70th Griffith Business Chamber Annual General Meeting.
When: Thursday 30th November 2023
Where: Griffith Leagues Club - Southside
Time: 5.30pm-6.30pm. Followed by General Meeting
RSVP: info@griffithbusinesschamber.com.au
Please consider putting your hand up to join the committee. We're always seeking new, fresh, motivated people who are passionate about our business community to join.
For more information about Executive & committee roles, please feel free to The Secretary.
IMPORTANT: Nominations must be received no later than Wednesday 22nd November 2023, 5pm. (at least 7 days prior to AGM)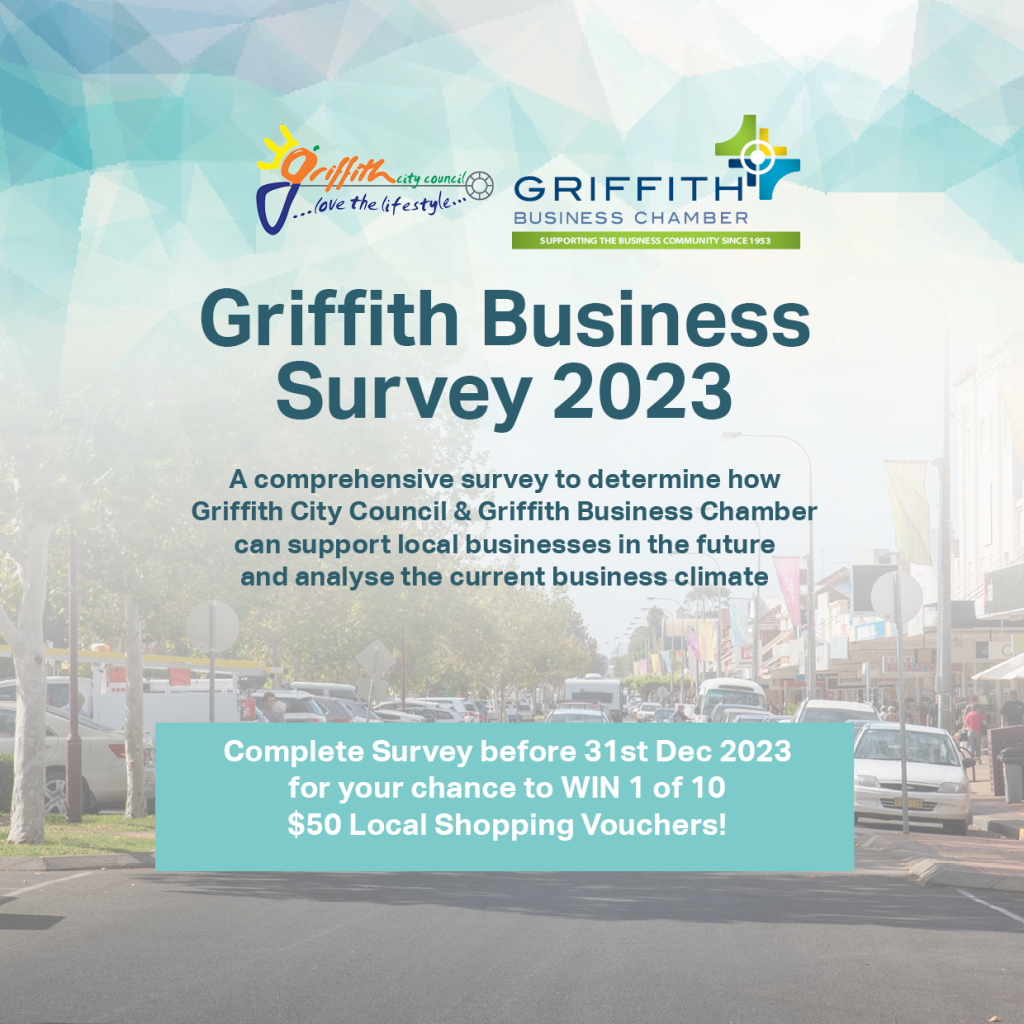 BUSINESS SURVEY
Griffith Business Chamber and Griffith City Council is encouraging local businesses to head online and complete the 2023 Griffith Business Survey before 31 December 2023. An added bonus of completing the survey - all participants will go in the draw to win 1 of 10 $50 Vouchers from local businesses. It is important to note that personal or identifying information will not be released and will be treated in with the strictest confidence.

Purpose of the Survey

The purpose of the Griffith Business Survey is to collect data, which will guide Griffith City Council and Griffith Business Chamber in supporting local businesses in the future, as well as analyse the current business climate. The last survey that was completed was the end of 2019, pre - covid.

The Griffith Business Survey will be a vital tool moving forward and it is important to get a broad cross section from the business community to complete the survey – the more comprehensive and diverse the information is the better. Operators from across the Griffith region are encouraged to participate, whether your business is in agriculture or manufacturing, beauty or health Council and the Chamber want to hear from you.

The information collected will be analysed and grouped together by different categories such as industry, business size or location.
The Griffith Business Survey will assist with the following initiatives;
inform the development of strategies and long term plans
support grant applications for our region
provide valuable information for major infrastructure projects and developments
be a valuable tool for local businesses to determine opportunities within their industry and provide key information to attract investors.
The survey will be made available for 3 months during October, November and December of 2023, with the summarised data made available to the public by the end of February 2024.

We would really appreciate it if you could spread the word of our survey with your business clients and contacts.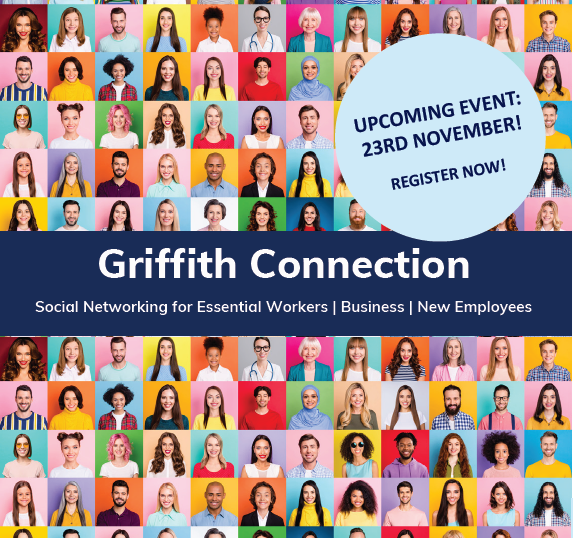 GRIFFITH CONNECTION
Are you new to Griffith? An Essential Worker? A business with new employees looking to socialise and meet new people?
Griffith City Council, Griffith Business Chamber and The Griffith Welcome Experience have proudly partnered to launch Griffith Connection - a new series of social networking events to welcome new workers to town.
We invite you to join us for the upcoming social event 'Drop in Drinks with Griffith Connection' on 23rd November 2023.
Please join us for after work casual networking and refreshments at ROR Event Space.
Enjoy a browse of the latest art exhibition of talented local artist Sophie Chauncy, sip on a glass of Calabria Family Wines and bite into tasty appetizers. Non-alcoholic beverage also provided.
This is free event, but we kindly ask you register for catering purposes.
For further information contact Marg Couch P: 0487 922 570 E: po@rdariverina.org.au